AC128-01 Intelligent timer emitter for roller shutter
Product No.:195514335
Model:AC128-01
Frequency:433.92MHz
Input:3V(CR2032)
Channel:16
Description:wall mounted timer emitter
Application:motorized roller shutter window,awning,roller blind,motorized curtain,window opener
AC128-01 Intelligent timer emitter can control the electric curtains, motorized shutters,electric window and motorized sky light by setting time, also can adjust the curtains position and angle through different light position, lead you a more comfortable indoor lighting.
Wireless RF timer emitter
1. Touching screen design, fashion and ease.
2. With timing function,max 6 timers can be set, daily cycle or weekly cycle for option
3. Capacitor touch screen with high stability and anti jamming ability.
4. 16 channels for 16 receivers or group control.
5. Max 3 group controls can be combined.
6. Power saving design .CR2032 battery for power supply. easy to replace, battery life is more than 1 year.
7. RF transmit power is 10 mW
8. LCD liquid crystal panel and LED back light, fancy and fashion.
9. Wall type installation with magnet holder, ease and flexible.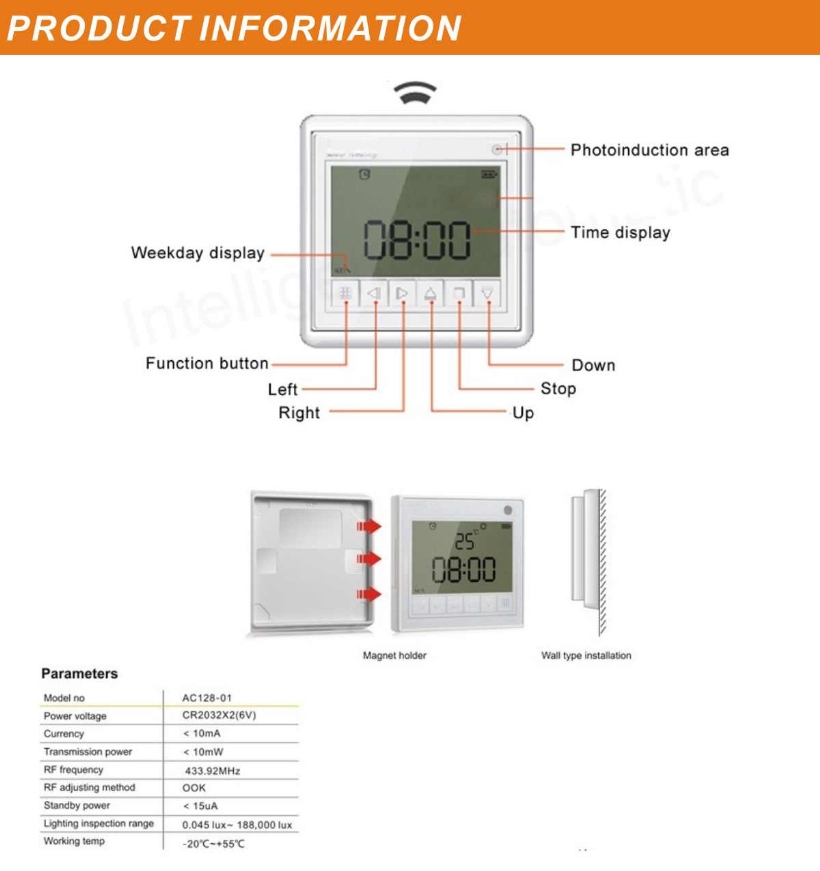 Contact Us
Tel: 0086-13618482281
Mobile: 0086-13618482281
E-mail: info@alurollershutter.com
QQ: 626778986
WeChat: Rollershutter
Whatsapp: 0086-13618482281
Add: Changsha Economic and Technological Development Zone,Hunan,China